This page has been moved to http://www.softcows.com/ad_killer.htm
Brief:
AD Killer - Stop popup ad windows, block ad sites, remove banners, flash and image ads.
Introduce:
AD Killer is a small, effective, and intelligent anti-ad software product that can remove annoying ads without human intervention by using artificial intelligent and intelligent agent technologies. This surfing companion features a smart engine that can identify possible ads and remove them even before you can see them. Unlike other similar programs, AD Killer not only closes the popup windows, but also blocks ad sites, removes banners, flash and image ads!
Feature List:
kill annoying popup windows.
kill annoying ad sites.
kill annoying ad cookies.
kill annoying banner images.
kill annoying flash ads.
kill annoying images ads.
Screenshot: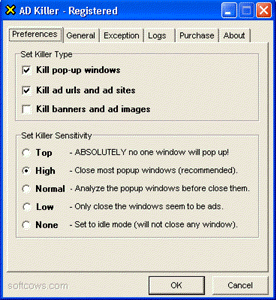 User Opinions:

"It seems to work as described"
I gave this new download the acid test which is to take a walk through the underworld of the net, the porno sites. Here are all kinds of traps, pop-up, pop-unders etc. My Norton was going nuts with all the trojans these scum-sites where trying to hit me with. Ad Killer did it's job. I was able to move through these sites smoothly and without getting trapped. As always happens with these sites the poorly written html code locked the computer after awhile but the magical cntrl/alt/delete did it's thing and I was out. I cleaned the computer with ad-aware which cleaned out the spyware, all in all I was pleased. Give this one a try. Please note I have nothing to do with the outfit which has published this Utility.
-signalshifter, 23-Apr-2002
"Great product.. maybe too great"
After using this product for about a week I went to my parents house and logged on to the internet to check my email.. i was immediately flooded with something I had not seen in the past week... popup ads. This product has truly spoiled me. I no longer have to endure the barrage of ads that I normally would on a daily basis. The only thing this program could use is a hot-key that could temporarily disable it while clicking on a link. Such as the link that allows you to rate software on download.com, which Ad Killer kills. Besides that it is a great program, small, does what it says it does, and exremely versatile. And despite what 1 user has stated, this program does have an exclude list of sites. It is under the Sensitivity tab of the options.
-Tito13KFM, 01-May-2002